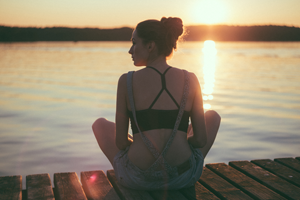 As I stood crying in my kitchen in January 2002 after another attack of anaphylactic shock, fear filled my body and mind when the hard reality that at any moment my life could end and perhaps I wouldn't make it through the night.  Day after day it was a struggle to eat any kind of food without breaking out in hives, or to take one really good deep breath, to sleep without fear of suffocating and even to go in public for my reactions to life were unpredictable.  My daughters were teenagers and I was faced with the reality that perhaps I wouldn't make it to see them graduate or even get married.  Week after week I spent in the ER room only to be sent home with the diagnosis that I was anxious.  Anxious I thought. That's the best these western medicine doctors could come up with. It was this very moment in my kitchen that I fell to my knees and cried out to God.  I said very clearly "God, you designed our bodies to heal themselves, what am I doing to cause this dis-ease?"  This was my epiphany.
I did make it through the night but the moment I woke I was lead to call my sister to ask her to pray for me.  During our conversation I told her that my health was very poor and I needed to find an alternative to what I was doing otherwise I might not be alive another day.   She referred me to a lady at church she attended who practiced natural healthcare with herbs and ate only raw foods.  I reached out to her immediately and she pointed me in the direction of Dr. Kim Fiucci, CNHP.  Kim was the answer I was searching for.   Kim and I quickly connected and to this day remains my very good friend and godsend.
Over the next couple weeks I met with Kim and she began with a health assessment identifying various dis-eases in my body to which I was having symptoms.  She began to educate me on the body and how everything you put into the body can either have a positive or negative affect. I quickly learned that there was years of toxins and layers upon layers of dis-ease lurking in the cells and DNA of my body that I had to irradicate.  It was life or death.  There was no alternative.  No excuses. No "I will think about".  I immediately made the decision that I not only wanted but needed to be around for my daughters and I would literally do anything it would take to make sure that would happen.  And so the journey began February 2002.  Little did I know what kind of journey I would be on, but again, I had no choice.
During my consultations with Kim, she made one particular recommendation to get a book called "Feelings Buried Alive Never Die," by Karol Truman.  I thought that was an interesting choice to recommend to someone who could barely lift her head off the pillow, but none-the-less I got the book.  Wow, was it a life changer. 15 years later, I still keep that original book near me.  Kim in all her wisdom not only approached my dis-ease with food changes and herbs, but addressed my entire being; Body, Soul and Spirit.
As a spirit filled believer, I took heed to her word and entrusted my life to her knowledge and wisdom, which I knew was only from the Lord himself.   The first year was literally hell on earth.  I thought I felt like death before I started to detox, yikes I would have gladly resorted back to feeling crappy rather than face the days ahead that I did.  If anyone has ever been through a short detox than you have an idea of what your body goes through.   Every day I would experience some new symptom, which threw me into anxiety and fear because I thought I was supposed to start feeling better not worse.  Kim began to educate me that in the process of wellness and healing that the body will actually start to detox  the most recent illness first. From there, layer by layer symptoms that you may haven't experienced for years start to rear their ugly head.  This was necessary in order to fully rid my body of all dis-ease.  I lost track of the number of phone calls night after night to Kim in fear and panic thinking I was going to die.  She is such an amazing woman for whom I am forever grateful for standing with me on this journey to my wellness. Each day for approximately ten months, I would call and every day she would ask me, "Are you still here?  Did you die? Then what makes you think today is any different?"  This mighty woman of knowledge would encourage and relieve my anxieties by simply letting me know this experience was all a part of the healing process or as some call it "crisis" and that I would get stronger day by day.
After about a year of detoxing, hours in the bathroom throwing up, countless rounds of herbs and learning so intricately how my body responded and reacted to foods, herbs and environmental agents, I started to see the light.  This is where my true Wellness journey began.
What I am sharing with you is my journey to health and wellness so that I may impart in YOU the faith and dedication to stick to your own course to find your own healing.
I love all of you and believe each of you have a purpose in this life and through all the storms and struggles of this life YOU are valued.   You are Beautiful.  You are Loved.  You are destined for Greatness.
Blessings and Favor