Maintaining a Balance of the Mind, Body & Spirit
B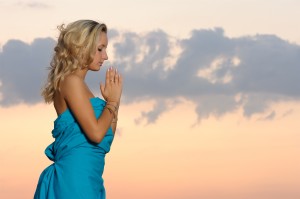 eing mindful to make sure that you have a healthy balance of your mind, body and spirit can help you to lead a happier and healthier life. Research has shown, and I can personally attest to the fact that the mind, body and spirit are all interconnected. For example, having a health issues can cause stress and can also lead to depression. Conversely, having a stressful and mind-taxing lifestyle can lead to high blood pressure which causes health issues. And not being in touch with one's spirituality can lead people to not feel fulfilled and lead them into health issues. Spirituality can have a great affect on personal happiness and how we perceive life, people and the world around us.
There are several things that we can do to increase the harmony of the mind, body and spirit. Improving any area that you feel is lacking will likely help the other areas, and your overall wellbeing. Here are some tips on how to help you to improve your mind body and spirit:
Healthy Eating
Reaching a healthy weight and then maintaining a healthy weight is very important and may be easier than you think. Just by switching out unhealthy choices for healthier choices can have a big impact and requires very little effort. Lowering caloric intake, such as something as simple as not finishing everything on your plate or having a salad instead can make a huge impact if done for weeks or months, and you will probably find that you are not that much hungrier than you would have been if you had eaten everything on the plate. Small changes can really add up.
Physical Activity
Who says physical activity has to be super hard? When most of us picture working out, we picture super strenuous workouts like P90X or Tai Bo. Those workouts have names like "Insanity" for a reason: they are insane! You don't have to sweat like it's summer in Jamaica to see results. Just making small changes like going for a slightly faster pace than usual walk for or five days a week can result in the pounds shedding off of you over time. In addition, low to moderate impact exercising also helps your heart health, which is very important because Heart Disease is a leading killer, especially among women.
Spirituality
Having a positive outlook can give anyone great strength and to overcome anything that is in our way. Spirituality can certainly help us to do things that we think that we alone cannot do or need help in accomplishing. Weight loss is a daunting task for most people but the good news is having a strong connection with your spirituality can help you to achieve your goals, and to make it easier than you think. The next time you are concerned with exercising or making the right eating choices pray for a short while and I'll bet that you will shortly have more strength to accomplish what you are trying to accomplish than you thought you had.